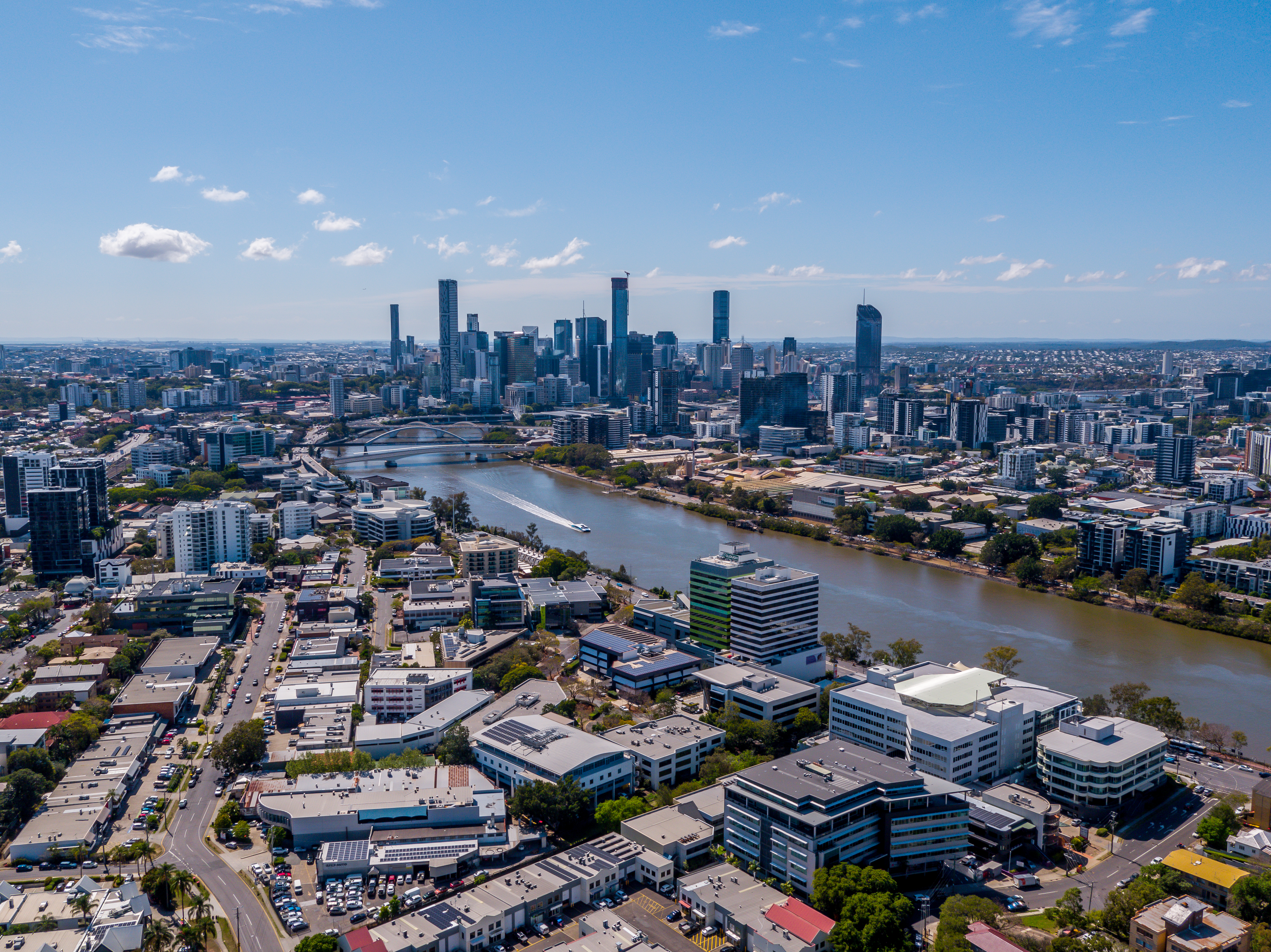 An Overview of the Milton Commercial Leasing Market
Are you currently looking for a new commercial office headquarters and are unsure of your preferred location?
With picturesque Brisbane River and CBD views, access to multiple major public transport nodes, high street retail amenities and affordable office rent, we think you should be investigating Milton, Brisbane.
Over the years, Milton has evolved into a burgeoning, modern suburb home to commercial offices, retail and a significant residential catchment area for the western corridor of Brisbane.
So, why is Milton the perfect suburb for you to lease commercial property in Brisbane?
Highly Convenient Location
Milton is located approximately two kilometres to the west of Brisbane's central business district. Its uniquely convenient location is unrivalled in Brisbane, making it one of the fastest-growing suburbs in Queensland.
Milton's location makes it easily accessible to supplies, customers, and employees, taking us to point two: Transportation.
Choice of Transportation
As the neighbouring suburb to the Brisbane CBD, Milton offers a variety of transport options, including train, City Cat, bus and pedestrian/bike access to the inner city.
With an office in Milton, you and your team will have direct access to the Bicentennial Bikeway, which meanders along the river from Toowong to Brisbane City and the botanic gardens. The bikeway is a multi-use trail with separate lanes for pedestrians and cyclists and is a unique way of getting around.
Prefer commuting by train? Milton Railway Station is the first stop on the Ipswich line after Roma Street Station. It's served by hundreds of commuter trains every day. From here, the train that heads into Brisbane Central takes less than five minutes.
Another unique form of transportation is the City Cat, a ferry service that takes you along the Brisbane River. Located conveniently on Coronation Drive, the Milton Ferry Terminal is only a short walk from the Milton commercial precinct.
Milton is also serviced by bus routes 470/416 and 475/476.
Affordable Lease Costs
Cost is a significant factor in any occupier's decision-making process.
Below we have created a table explaining and outlining the relationships between building grade (quality) and comparative gross rental range.
How does this stack with the rest of Brisbane's fringe precincts?
Commercial lease incentives are payments or concessions offered by a landlord to encourage a new tenant to sign a lease or entice an existing tenant to renew their lease. Incentives are typically offered in the form of either payment of a fit-out or amortised rental discounts.
Milton, on average, offers incentives that are in the order of 5% higher than the rest of the Brisbane precincts.
Why? Milton recently experienced a spike in vacancy when a few of the long-term anchor tenants in the precinct decided to relocate back into the Brisbane CBD. When vacancy increased, owners in the precinct had to compete for tenant commitment, hence why deals were more aggressive.
The vacancy in Milton has recently tightened significantly, so if you consider this precinct as the long-term home for your business, you better get in quick!
So, with lower rents and higher incentives, Milton ends up being roughly 15% cheaper and more affordable than other Brisbane commercial markets.
Entertainment
Milton is home to Suncorp Stadium, XXXX Brewery, and Park Road, a strip of trendy bars and restaurants, all of which are great places to grab lunch or an after-work drink.
Also, every Friday on the Milton Green, you can grab yourself a bit to eat at one of the delicious food stalls!
Commercial Property For Lease in Milton
339 Coronation Drive, Milton
Area: 120m2 - 2,900m2
The recently completed refurbishment works have positioned 339 Coronation Drive as Milton's premier office tower. This property features an impressive atrium 'green lounge' designed to add comfort and style to your place of work.
Available office spaces range from 120m2 to 2,900m2 in size. Local onsite amenities include a café, gym & exclusive end of trip facilities with daily towel service.
With 300 onsite car parks, rest assured that the days of struggling to find inner-city parking are behind you.
Add unrivalled signage opportunities fronting Coronation Drive into the mix, and you've got a deal that's impossible to beat.
Well serviced by several different transport options including train, bus, ferry, bike and car, 339 Coronation Drive leaves no wishes unanswered.
2 Gardner Close, Milton
Area: 315m2 - 1900m2
2 Gardner Close has recently undergone a full building refurbishment offering brand new speculatively constructed tenancies. The building has also seen the inclusion of brand new, high-quality end of trip facilities and an onsite cafe, which acts as a hub for all businesses in the precinct.
Situated in the heart of Milton's business district, 2 Gardner Close boasts three levels of large efficient floor plates with a central core lift & 69 onsite car parks. Brand new speculatively constructed & warm shell open plan tenancies between 315m2 and 1,900m2 are available.
This A-Grade building features 3 phase power & fibre optic connection. Additionally, the building is one of the most well presented within the precinct with a modern facade paired with surrounding gardens softening the corporate feel and providing a well rounded entry experience for all staff & clients.
23 Graham Street, Milton
Area: 350m2 - 1,400m2
Are you interested in a commercial lease in Milton? This boutique commercial building offers the opportunity to secure whole extensive floor plates of 700sqm at highly competitive rates.
With a 4-Star Green rating, end of trip facilities with showers on each level and well serviced public transport options, including bus, city cat and train, 23 Graham Street could soon be home to your business.
Located in the Park Road precinct, close to a number of businesses, retail, restaurants, cafes, gyms and residential areas, 23 Graham Street has it all.
With the ability to sub-divide floor plates efficiently, the property is suited to tenants from 350 - 1,400sqm allowing endless growth potential. Additionally, each floor plate offers a generous car parking ratio of 1:70sqm.
301 Coronation Drive, Milton
Area: 260m2 - 2,000m2
In terms of the lookout, nothing beats 301 Coronation Drive in Milton. Located in the heart of Milton's Business District with spectacular views of the City and Brisbane River, this commercial building has multiple fully fitted options available.
With office tenancies ranging from 260m2 up to a totalled 2,000m2 across 3 full floors, a parking ratio of 1:60sqm, additional visitor parking and exclusive End of Trip facilities, 301 Coronation Drive is the commercial space of choice for many Milton-based businesses. Additionally, there is the opportunity to secure building naming rights onto Coronation Drive & benefit from the extensive number of daily commuters.
Located directly opposite the new ferry terminal at Park Road, getting to the office and around the city has never been more convenient.
303 Coronation Drive, Milton
Area: 133m2 to 187m2
Located in Milton's Business District with spectacular views of the City and Brisbane River, 303 Coronation Drive in Milton has a range of quality, elevated tenancies available.
With tenancies between 133 - 187m2, these are the perfect suites for smaller scale businesses looking to secure a fully fitted office with river views.
303 Coronation Drive boast End of Trip facilities, a parking ratio of 1:60sqm and a hard-to-beat location, directly opposite the new ferry terminal at Park Road.
About Aegis
Aegis Property Group is a leading office leasing specialist in the Brisbane Metro market, with over 14 years of experience in deal orientation and campaign management.
Contact our knowledgeable team on 07 3195 9960 to inquire today.