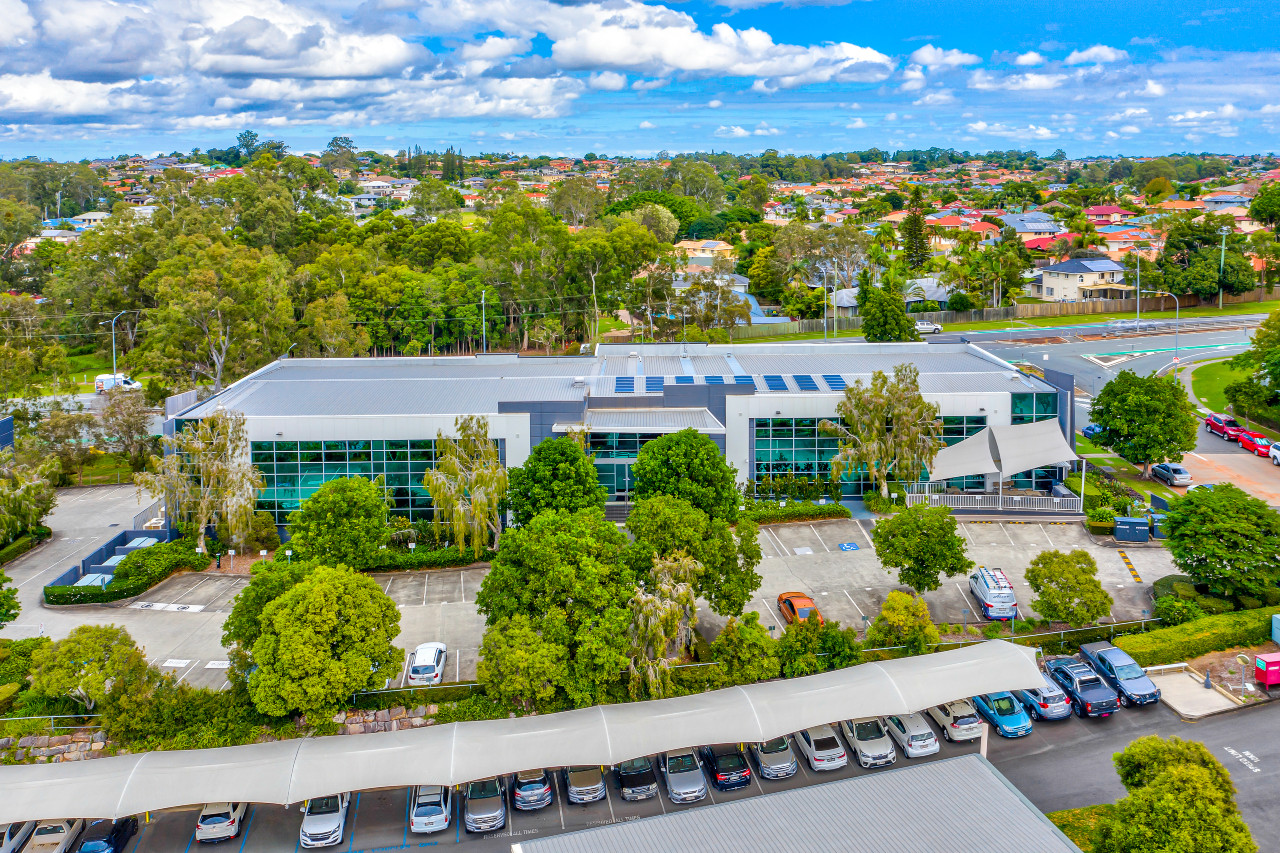 Eight Mile Plains & the Evolution of Business Parks
Large floor plates, generous car park ratios, and affordable rent; look no further than Eight Mile Plains. While business parks once focussed on functionality over form, they have since been redefined into the vibrant, innovative hubs we're seeing today.
Now built to foster efficiency, collaboration and prosperity, business parks are springing up in attractive suburban locations. Eight Mile Plains has become one of these popular commercial precinct locations and now hosts Brisbane's leading business park.
With a market size of an estimated 220,000sqm, there is a bountiful opportunity for businesses to take advantage of these office spaces. technology parks will expect to grow their footprint as demand for this type of office accommodation continues to grow.
Great Location and Connectivity
Eight Mile Plains offers proximity and innovation within a practical hub driving and riding distance to essential destinations.
This business hub connects major arterial roads, including the Pacific Motorway, Logan Road, and the Gateway motorway. This means it is only a 15-minute drive to the Brisbane CBD and 20 minutes to the airport, adding the element of convenience.
For those taking alternative modes of transport, the dedicated cycleway between South Brisbane and Eight Mile Plains, the V1 bikeway, runs adjacent to the Pacific motorway. This provides a safe and efficient route for commuters travelling by bike.
Public transport options are also readily available, with the Eight Mile Plains station park 'n' ride now fully complete and offering around 340 new parking spaces and bicycle storage racks.
Nearby train stations are available, and the South East busway travels directly to the Eight Mile Plains Busway Station, providing commuters easy connectivity to the CBD and placing them within proximity to Westfield Garden City Shopping Centre.
Growth of Neighbouring Residential Precinct
External to the Eight Mile Plains business park is the advancement of neighbouring residential precincts.
The City of Logan has been enjoying prosperous population and housing growth within the corridor over the past decade. There are strong indicators that this is not just a momentary occurrence but is likely to continue for another 15 years.
Stable Rent and Incentives
Throughout the past ten years, gross face rents and incentives in Eight Mile Plains have remained relatively stagnant even throughout dips in the market. This has been reassuring, as in some cases, the Eight Mile Plains commercial market has outperformed more well-known precincts, including Milton, Spring Hill and Fortitude Valley.
There are only two main landowners and developers within the Eight Mile Plains precinct, unlike these other precincts. These owners, Graystone and OPD, have focussed on releasing new products cautiously and only when the time is right, meaning there isn't excess competition and prices can remain stable.
Zoning
According to the JTC Corporation, business parks often attract occupiers that engage in high-technology, research and development, high value-added and knowledge-intensive activities.
Fortunately, Eight Mile Plains has long offered a specialised centre zoning for research, training and education, typically attracting users from Medical, Education, NDIS providers, State Government, and research. All who fit into the zoning audience of business parks.
Car Parking
While there are countless connectivity options within the Eight Mile Plains location, the precinct also offers a fantastic car park with an average ratio of one bay by 40sqm.
Thankfully, this supports the excellent road infrastructure available for organisations and staff who already value these characteristics within the location. Such organisations include the RACQ head office, Woolworth's head office, Bank of Queensland, Johnson and Johnson, Seymour Whyte, Lend Lease, Carers QLD and Brisbane South PHN.
Vacancy
The current vacancy total is 13%, excluding new build projects under construction. However, there are limited +1,000 sqm vacancies, as seen in the below vacancy summary,, due to their popularity.
This has led to new development activity in the precinct including, 5 Miles Platting Road and Freeway Office Park, Building 10.
5 Miles Platting Road will consist of 3,000sqm of office accommodation across three levels and is due for completion Q4 2022.
Building 10 at Freeway Office Park will become available by Q42022 and will offer 1,100 floor plates over two floors.
Vacancy overview:
The new developments coming online are as relevant and to the same standard as new developments in an inner-city location, ensuring that business will enjoy high quality building amenity at a far more affordable price tag.
Commercial Property for Lease in Eight Mile Plains
Building 20, Garden City Office Park
2404 Logan Road, Eight Mile Plains
Area: 200m2 - 2400m2
With immediate access to QLD's major arterial roads and public transport, Garden City Office Park is in a prime and convenient location.
The building has recently undergone a major refurbishment and presents as Eight Mile Plains best opportunity for corporate occupiers of office space with large, efficient floor plates.
Business will also benefit from multiple onsite eateries, outdoor break areas for efficiency and functionality and an abundant of onsite parking bays.
Brisbane Technology Park
7 Brandl Street, Eight Mile Plains
Area: 350m2 - 740m2
Located in Brisbane Technology Park, this building offers a high-quality existing with a total of 35 available car bays.
Within proximity to Logan Road, there are excellent signage opportunities and has a great connectivity link to the city, airport and Gold Coast region.
The busway station is also within walking distance, making it the ideal location no matter the transport choice.