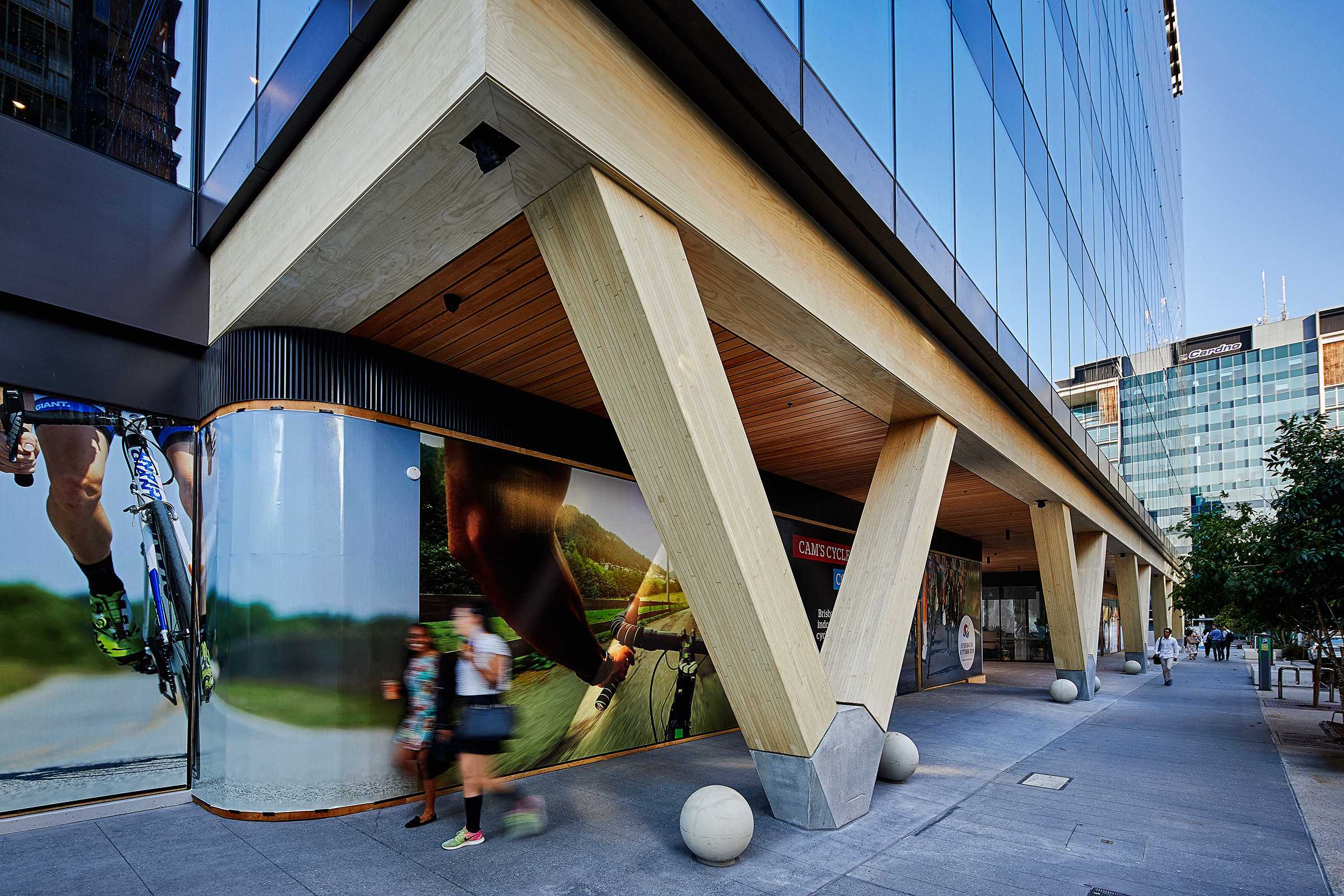 Bowen Hills: The Leading Urban Neighbourhood for your Next Office Space
Home to progressive, urban commercial spaces, King Street has quickly become the leading location for office leasing in Bowen Hills. Neighbours with the CBD, Fortitude Valley and Newstead, it's easy to see why developers have fled to this location.
As experts in shaping cities and creating strong and connected communities, Lend Lease is behind the master-planned Brisbane Showgrounds Project, redeveloping King Street into a vibrant lifestyle precinct. The Showgrounds is one of Brisbane's most connected mixed-use destinations, so it only makes sense to expand the surrounding neighbourhood to embrace the same livelihood and innovation.
This project has seen King Street evolve into a cosmopolitan destination spot for residents, workers and visitors. With approximately 31,000sqm of office space already developed, the area shows strong potential for more office developments, including 1 King Street. Backed by residential apartments, it combines the accessibility and excitement of inner-city living with the charm of a local community, creating a vibrant hub perfect for business and lifestyle.
Accessible Public Transport
Located just 3km from the city, there are many main public transport options, including train lines, bus routes, and bike and pedestrian paths around the suburb to simplify your daily commute.
If you prefer to commute by train, both the Bowen Hills and Fortitude Valley train stations are less than a ten-minute walk from the Brisbane Showgrounds, taking no longer than five minutes to get to the city.
The Exhibition Station located at the Showgrounds is currently being upgraded as part of the Cross River Rail Project. After completion, this station will provide rail services all year round to serve residents throughout the suburb and provide pedestrian links between the station and Bowen Bridge Road.
"Bowen Hills is one of Brisbane's most emerging precincts. Between the Royal Brisbane Hospital, road and developing public transport infrastructure, and high street retail amenity available on King Street, it's a fantastic location for a plethora of industries. Our property at Terrace Office Park has received a lot of enquiry and has leased up well, and is going to be great long term investment for us." - Brad Bennett, Partner, KordaMentha Real Estate.
Food & Entertainment
Food and entertainment is something Brisbane locals take very seriously. While the city hasn't always been known for its foodie hotspots, it has certainly evolved into an abundant dining and cultural destination with a spark of creativity.
Thanks to the budding King Street precinct, Bowen Hills is becoming the face of Brisbane's food and entertainment scene.
Entertainment
For all the movie buffs, King Street Movies in the Park is back for 2022. This annual event is coming up on the 26th of March, showcasing free movies, live entertainment and complimentary food from local retailers. The two movie screenings for you to watch as the sun sets are Dore and the Lost City of Gold and Mamma Mia, accompanied by live music and a samba show, activities for the kids, free popcorn, the LaMacelleria's gelato cart, and a King Street Eats voucher.
If local music is more your scene, King Street is also known for regularly hosting live music sessions from talented local artists. Over the festive season last year, local jazz and acoustic artists played throughout the street, creating a lively atmosphere loved by the locals.
The RNA Showgrounds is also the hub for exhibitions and concerts. From the Ekka to Wedding Expos and music festivals, there is always something happening at the showgrounds.
Food & Restaurants
Now making a massive contribution to Brisbane's foodie scene, King Street hosts an extremely wide range of food and beverage options to suit every occasion, taste and mood. From breakfast cafes and gelato shops to giant beer halls and classic French cuisine, your biggest challenge will be deciding which venue to visit first.
The area features popular destinations like El Camino, Beerhaus and Fat Dumpling that have quickly become local hotspots with raving reviews. Along with Sushi & Nori and Il Verde, the area also hosts an award-winning French restaurant; Montrachet, that recently won two Chef Hat Awards.
For an experiential dining experience, you can visit Six Acres Restuarant for paddock to plate dining, or if you're an early riser, Kuhl-Cher cafe is ready to satisfy your espresso cravings every weekday from 6 am.
King Street Bakery is another local favourite. Not only popular for the atmosphere and freshly baked goods but for their community initiatives too. Last October they launched KSB Home Feast, supplying delicious, pre-made meals by award-winning Chef Shannon Kellam, perfect for easy home dining or entertainment.
Wellbeing
While King Street is all about liveliness and excitement, it understands the need for balance.
With a passion for cycling and dedication to helping people reach their well-being goals, CAMS Cycling Collective is located on King Street, offering indoor cycling sessions with leading trainers. They use the latest cycling software including virtual cycling, as well as coached outdoor rides, pilates classes and nutrition consultations for an all-around approach to health.
If you're after a more casual approach to fitness, Flourish is King Street's very own free fitness and wellness program offering classes from Tuesday to Saturday every week. Suitable for all fitness levels, there are chances for you to breathe, move your body and feel recharged with pilates, yoga and mindfulness sessions.
Offering the finest cuts and the ultimate experience, two boutique hair salons are located within the precinct. Emporium Barber brings you the ultimate men's grooming experience, and for beautiful, healthy hair, you can visit Tiger Lamb for a phenomenal hair experience.
King Street Parking
King Street also features convenient and affordable car parking facilities to relax and enjoy.
Featuring a five-level car park that you can access via Machinery or Alexandria Street, you can rest assured your car will be kept secure. Using licence plate recognition technology, you don't have to worry about losing a ticket; you can simply pay on your card as you exit. If you're only stopping by for a quick visit, you can take advantage of the one-hour free parking or pay just $15 for early bird parking every Monday to Friday.
Other
If creativity and good conversation are more your style, King Street also offers a variety of unique lifestyle opportunities. The King Street Book Club has just returned and offers a chance for book lovers to come together and enjoy a glass of wine over a robust discussion.
As Queensland's home of craft and design, Artisan is a not-for-profit organisation dedicated to supporting and promoting contemporary craft and design practice. Also located on King Street, they offer a range of classes for you to learn a new skill in a relaxing environment.
As a hub for local creatives, you can also find Australia's largest curated marketplace of makers, designers and entrepreneurs right in Bowen Hills. The Finder's Keepers is where communities can come together to shop, explore and discover the very best from independent designers across Australia. While you can shop online whenever you please, Bowen Hills hosts the acclaimed pop-up markets each year, coming up on the 2nd of June in 2022.
Facilities
On a more practical note, the Bowen Hills Medical Centre is closely located with free off-street parking, or just a 500m walk from the Bowen Hills train station. MyHealth Brisbane Showgrounds is another medical practice located on Machinery Street with one-hour free parking. There are also many local, affordable childcare facilities for you to choose from at accessible locations nearby.
Listings
25 King Street
Area: 500m2 - 1,500m2
This property is a major statement building in the heart of Bowen Hills' newest entertainment and food precinct. Featuring creative, engineered timber and surrounded by endless food options, this location is perfect if you want to make a statement with your commercial business endeavour.
The available office spaces range from 500m2 to 1500m2, surrounded by substantial amenities, a medical centre, bars and eateries.
The property has also garnered a 6-star NABERS energy rating, a 6 Green Star rating and is Platinum Well Certified. In addition to this, it has also received multiple awards, including the CTBUH Overall Category Worldwide Winner for the Best Tall Building under 100m.
Terrace Office Park
Area: 250m2 to 1,000m2
This property is located on 527 Gregory Terrace, Bowen Hills, and can be considered Brisbane's most convenient office park.
After recently undergoing a major refurbishment, office spaces are now available in sizes from 250m2 to 5000m2.
Central to major arterial roads, it has an unparalleled car park to fit the demand of traffic that surrounds the area.
The exclusive outdoor areas and their green atmosphere are suitable for events, team meetings, staff lunches or whatever event you desire to host.
About Aegis
Aegis Property Group is a leading office leasing specialist in the Brisbane Metro market, with over 27 years of experience in deal orientation and campaign management.
Contact our knowledgeable team on 07 3195 9960 to inquire today and take advantage of the exciting commercial leasing opportunities in Bowen Hills.